Choosing the Right Desktop PC
We sort through the types of desktop PC available, to help you choose one that suits your needs.
Budget PCs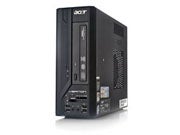 Acer Veriton X270
A budget tower desktop carries standard desktop components, but can cost as little as $300 if you select older hardware or inexpensive, low-end processors. Typically, these PCs are minitower systems, with fewer drive bays than a full tower has. The
Acer Veriton X270
, for example, offers an older Core 2 Duo processor but delivers relatively speedy performance for just $500. Beware models that come equipped with AMD Sempron or Intel Celeron processors, as those CPUs' performance drawbacks will cancel the advantage of their low cost.
Inexpensive tower desktops usually incorporate low-powered, integrated graphics rather than discrete graphics cards. As a result, your entertainment options may be limited. High-definition media playback suffers on models equipped with older Intel-based integrated graphics; and if you're interested in gaming, you'll be hard pressed to tackle anything more demanding than Flash-based offerings. Machines equipped with Intel's Core i3 processor build improved integrated graphics performance
right onto the chip
; though they still won't be adequate for video games, they will support satisfactory high-def media playback.
Budget PCs generally offer at least 320GB of storage space and at least 2GB of RAM, but permit few upgrade options beyond adding RAM or a larger hard drive. They rarely leave much room for expandability inside their cases, either. Still, if you need a machine for nothing more than word processing, e-mail, and occasional DVDs or online videos, these machines should suit you just fine. For a ranked chart of systems in this category, see "
Top 10 Budget Desktop PCs
."
Mainstream PCs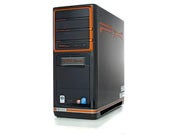 Gateway FX6800-01e
Higher up in the desktop chain, you'll find machines aimed at mainstream users. These PCs start in the vicinity of $800, and carry at least 500GB hard drives and about 4GB of RAM. Powered by dual-core and lower-end quad-core processors, they deliver better performance than budget desktops, without breaking the bank. Consider the
Gateway FX6800-01e
: For just over $1000, this machine features a quad-core Core i7-920 processor, and an ATI Radeon HD 4850 graphics card.
Photo-editing applications stand to benefit from working with multicore processors, and entertainment enthusiasts will appreciate the improved gaming performance and stutter-free HD media playback that a discrete graphics card helps deliver. Many of the machines in this category include a Blu-ray drive, either standard or as an optional extra. And if your video editing needs are modest, you probably can find a machine in the mainstream price bracket that has enough power to handle your creative projects. Check out our chart of recent models in "
Top 10 Mainstream Desktop PCs
."
Performance PCs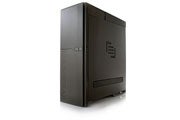 Maingear Shift
Occupying the high end of the spectrum are performance desktops. Such PCs generally start at a little over $1500, with some outliers--like the
Maingear Shift
-- hovering in the range of $7000. Most performance PCs are full tower systems, equipped with a slew of drive bays and expansion slots. Designed to tackle challenging tasks, they come equipped with the latest and greatest Intel and AMD dual- and quad-core processors, 6GB or 8GB of RAM, and at least one discrete graphics card. Some performance desktops include multiple graphics cards to deliver improved graphics performance.
Performance desktops are suitable for users who need a lot of processing power to get their work done--professionals who do extensive high-resolution photography or video editing, and gamers who are willing to pay for top-of-the-line visual effects.
Traditional PC manufacturers like HP and Dell sell performance machines, but so do smaller boutique PC makers that specialize in highly configurable custom machines, tailored to your needs and budget. For a chart of recent high-end models, see "
Top 10 Performance Desktop PCs
."
From :